Allan McNish: Dumfries boy who became a motorsport star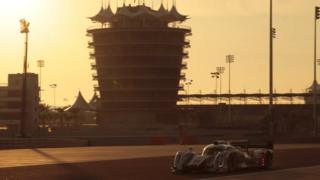 Britain's three-time Le Mans 24-hour race winner Allan McNish has retired from sports-prototype racing.
He was always something out of the ordinary.
While some of us were still learning to ride a bike, he would be off at weekends racing motorbikes or driving karts at breakneck speed.
Then, on Monday morning, Allan McNish was back at his desk just like everybody else.
And he always spoke of his motoring exploits like other schoolboys talked of gathering conkers or buying a bag of sweets.
I shared a classroom with Allan at St Andrew's Primary and St Joseph's College in Dumfries and, it seemed, there was rarely a week went by when the local paper was not carrying a picture of him with some trophy or another.
We all knew he was good, but I don't think any of us had a concept of just how good.
As his career took off, we started to get a better idea of the scale of his talent.
It took him a long way from Dumfries and brought honours across the world with spells in Formula Three, Formula One and then sportscars.
All the time, we felt proud to have someone flying the flag for south west Scotland.
It wasn't always straightforward either, with dramatic crashes which made you fear for his life.
It is something which drivers accept as part and parcel of the sport but provokes panic among friends, family and fans when images of mangled wreckage are flashed around the globe.
Thankfully, he has always emerged relatively unscathed.
Now that he has officially brought the curtain down on his racing career it is surely time he gets the recognition he deserves.
He is not the kind of man to shout his achievements from the rooftops, but they make a list most of us would happily hire a loud hailer to announce to the world.
One victory in the Le Mans 24-Hour race would be impressive, but the 43-year-old Doonhamer has no fewer than three to his name.
He is a reigning world champion having clinched the 2013 FIA World Endurance Championship after scoring three wins, three seconds and one third placing in the eight race series.
In 89 races since making his Audi sportscar debut in 2000, he has finished on the podium 66 times and won outright on 29 occasions.
He won the North American-based ALMS sportscar endurance title in 2000 - his debut season with Audi - and again in 2006 and 2007.
As a teenager he won three British and six Scottish karting championships, finishing third in the World Championship in 1985.
He won the 1988 Formula Vauxhall Lotus Championship and finished second in the 1989 British Formula Three Championship by three points.
In Formula One, Allan had testing contracts with McLaren and Benetton from 1990 to 1996 and Toyota from 2000 to 2002 - including a full F1 World Championship race season in 2002 - and Renault in 2003.
His current team, Audi, has paid tribute to a "great team player" of "professionalism, loyalty and commitment".
Allan himself said he wanted to stop at the "right time" and he is certainly going out at the top of his profession.
Nobody who knows him would grudge him the chance to finally leave behind the rigorous regime required of the modern driver.
He has pursued his racing career with a dedication, determination and focus which few of us can really comprehend.
Yet it speaks volumes about him that I would always consider him a friend first - and think of his sporting achievements later.