Borders to Edinburgh railway: Budding train drivers are one in 200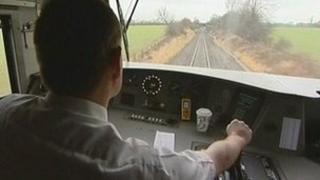 Ten people have defied odds of more than 200/1 to be chosen as future train drivers on the Borders railway line.
More than 2,200 people applied for trainee driver jobs on the line between Tweedbank and Edinburgh.
The successful candidates include a blacksmith, a welder, an airport postman, a mechanic and a former lance corporal in the armed forces.
They all come from towns in the Borders - including Galashiels, Hawick, Melrose and Selkirk.
They will work alongside eight existing ScotRail drivers once the railway is completed in 2015.
ScotRail managing director Steve Montgomery said: "We received more than 2,200 applications for trainee driver jobs and are confident that the 10 new recruits are of the highest calibre, with the essential mix of experience, good concentration and mature attitude required to be a successful train driver.
"Coming from the Borders themselves, they know the positive impact which the return of rail services to the area will have on local communities."
Transport Minister Keith Brown met the new drivers at the 166-year-old Lothianbridge viaduct in Midlothian.
He said people were "really seeing their railway take shape" and he was pleased to be able to meet the drivers.
'Immediate benefits'
"The Scottish government has a strong record in investing in schemes which deliver crucial social benefits for communities, as well as for the wider Scottish economy," he said.
"Borders rail is no different.
"We recognise infrastructure investment as a vital driver in revitalising communities and providing employment opportunities."
He said that by encouraging public transport they would "improve our environment and the nation's health too."
"The people of the Borders and Midlothian will reap the immediate benefits of this project, but the Scottish population as a whole will also see the rewards," he said.
"These recruits are undertaking an intensive training regime and I am honoured that they could make the time to come along and help us celebrate the continued progress of this exciting project."