Scottish Borders common riding campaign launched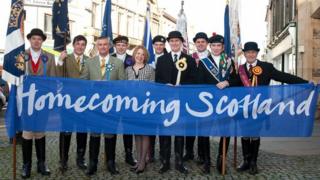 Representatives of 11 common ridings and festivals in the Borders have officially launched a campaign to promote next year's events.
Return to the Ridings is part of Homecoming Scotland 2014.
The towns of Hawick, West Linton, Selkirk, Peebles, Melrose, Galashiels, Jedburgh, Duns, Kelso, Lauder and Coldstream are taking part.
They will work with Homecoming Scotland and Scottish Borders Council (SBC) to increase their marketing and promotion.
The common ridings and festivals recreate the ancient tradition of riding a town's boundaries on horseback.
A new short film has been commissioned to showcase the celebrations and illustrate what visitors to the region can expect to see.
Jim Brown, vice convener of SBC, said: "Return to the Ridings is a signature Homecoming Scotland 2014 event which aims to attract visitors back to the Scottish Borders common ridings and festivals.
"The common riding festivals provide a stunning spectacle unique to Scottish Borders life, and through Return to the Ridings we are extending a warm welcome for Scottish Borders descendants to return to their ancestral town, and we hope to attract more new visitors to the Borders in 2014.
"The region is hosting a series of events as part of the national homecoming celebrations and extending an open invitation to all to 'come back to the Scottish Borders'."
The year of 2014 is of particular significance to Hawick as it marks the 500th anniversary of the Battle of Hornshole.
Only a year after Hawick lost most of its able-bodied men at the Battle of Flodden in 1513, the youth of the town defeated an English raiding party and captured their standard at Hornshole.
'Fantastic opportunity'
Frank Scott, secretary to the Hawick common ridings, said: "2014 is a hugely important year for the town and there will be a lot for visitors to see.
"On 5 May well over 1,500 children from Hawick will take part in a march from Hornshole to the centre of Hawick for the unveiling of a new three-metre high bronze statue commemorating the 'Big Return' from Hornshole."
The Return to the Ridings campaign was last staged in 2009.
Caroline Packman, Homecoming Scotland 2014 director, said it was appropriate for the common ridings to be part of next year's celebrations.
"Homecoming provides a fantastic opportunity for Scotland's communities to celebrate all that's great about our country," she said.
"So it's only fitting that the spectacular and heart-stirring Return to the Ridings is part of the homecoming programme of events next year."