Borders pupils get safety instructions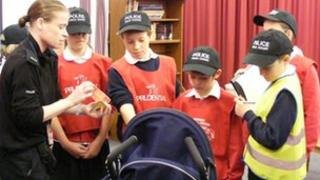 Primary seven pupils from schools across the Borders have been learning how to keep themselves and others safe through a "hands-on" initiative which is now in its 21st year.
Under the Crucial Crew project, youngsters are divided into small groups to attend a series of workshop-type sessions covering areas like road safety, the use of electricity, and drug and alcohol awareness.
There are also sessions regarding safety on farms and, with the Borders line scheduled to reopen within the next 18 months or so, how to stay safe around railways.
Paul Richardson, community safety officer with Scottish Borders Council, said the Crucial Crew initiative did work.
Lessons learned
"We've even had a police officer and a few teachers attend this year who actually experienced Crucial Crew as pupils," he said.
"And what they learned has stayed with them."
The P7 pupils who took part were certainly much more aware of the risks following the sessions.
One said: "You should never stick a knife in an electric toaster unless you're absolutely sure it's switched off."
"I'll never cycle without my helmet again," another pupil added. "And I'll always wear something bright."
And a third said: "I didn't realise just how easily you can be sucked under a moving train if you're standing on the edge of the platform."