Dumfries Peter Pan property security stepped up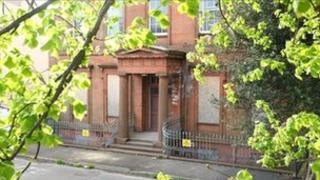 Security is to be tightened around a £4m project to restore a property which inspired the Peter Pan story after thieves targeted the building.
Lead was stolen from the roof of Moat Brae House in Dumfries overnight between Tuesday and Wednesday.
The building is currently being upgraded to turn it into a national centre for children's literature.
Peter Pan Moat Brae Trust project director Cathy Agnew said action would be taken following the theft.
"It is very disappointing that this has happened," she said.
"Inevitably it is always going to be a temptation when people see that lead is up there.
"It is really sad that it has happened - we are trying to create something for the community."
She urged the public to report any suspicious activity around the property.
Ms Agnew confirmed that work would also be undertaken to improve security of the site.
First phase works to convert the building, where author JM Barrie played as a child, are scheduled to be completed later this year.
Architects are currently working on the second phase which includes visitor facilities and developing land behind the house.