Wickerman Festival sparks into life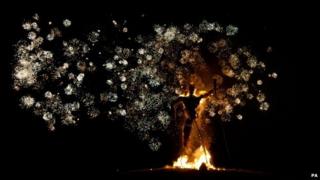 The sold out 12th edition of the Wickerman Festival has taken place at East Kirkcarswell Farm in Dumfries and Galloway.
Primal Scream and Amy Macdonald headlined the two-day event near Kirkcudbright.
KT Tunstall, The Enemy, Dexys, Admiral Fallow and Bellowhead were also among the acts.
The festival concluded on Saturday night with the traditional burning of a giant wicker figure.
Thousands of fans descended on the farmland site in southern Scotland over Friday and Saturday.