Galloway Community Hospital infection risk action call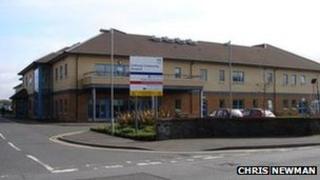 NHS Dumfries and Galloway has been asked to deliver improvements to reduce infection risks at a community hospital in the region.
It follows the latest inspection of the 46-bed facility in Stranraer.
A team from the Healthcare Environment Inspectorate carried out an unannounced visit to the Galloway Community Hospital in May.
They found good cleanliness and hygiene standards across all wards and departments but sought some changes.
The HEI highlighted feedback from one patient who described the Stranraer hospital as the cleanest they had been in.
Most infection control standards were being met, but a number of areas for improvement have also been underlined.
Inspectors said senior nursing staff were unsure about who had responsibility for reviewing infection control measures and how often they were carried out.
Some disposal bins for needles and other sharps were found to be overfilled and gaps were identified in the recording and monitoring of temperatures in fridges used to store drugs and vaccines.
Inconsistencies were also found in the hospital's system for checking the cleanliness of mattresses.
NHS Dumfries and Galloway said an action plan was already being developed to address the four requirements and one recommendation made by the HEI.