Scottish window tax costs revealed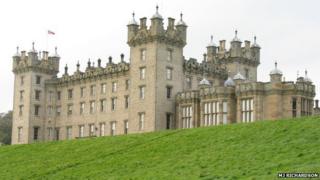 National Records of Scotland has published online records showing the costs of a tax on windows in properties more than 250 years ago.
The rolls list the nation's taxpayers in burghs and country parishes.
They include the home in the New Town in Edinburgh where philosopher David Hume paid for 18 windows in 1773/74.
Near the top of the range was the Duke of Roxburghe's Floors Castle near Kelso with 294 windows which cost him £14 and four shillings in 1748.
The window tax roll data is being available on the ScotlandsPlaces website, the latest addition to its "treasure trove of historical information".
It brings together records from three of Scotland's national collections: the National Records of Scotland (NRS), the Royal Commission on the Ancient and Historical Monuments of Scotland (RCAHMS) and the National Library of Scotland (NLS).
The window tax was notorious in its day, fuelling talk of householders blocking up their windows to reduce their tax burden.
However, NRS archivists consider that to be "more myth than fact", because blocking up a window would save a few shillings per year, which is "not likely to have been enough to force wealthy homeowners to give up their daylight".
Many windows on the Georgian buildings in Edinburgh's New Town appear to have been blocked, but were in fact designed that way to maintain the buildings' symmetrical facades.
Victorian health campaigners referred to the window tax as a "tax on light and air" by the time it was abolished in 1851.
The term "daylight robbery" is often linked to the window tax - even though the phrase was not recorded until the 20th Century.
NRS chief executive Tim Ellis said: "I'm delighted to be making available online more of the records that we hold in Scotland's national archive.
"The window tax rolls are a rich resource for academic research, but also for anybody who wants to gain an insight into our nation's incredible history.
"This data can be used alongside a range of other fascinating records that we've made available online to enable people to piece together a picture of what living in Scotland was like 250 years ago."
'Valuable guide'
RCAHMS head of education and outreach Rebecca Bailey said it was "piecing together an incredibly detailed mosaic of the nation's past".
"The window tax rolls can tell us more than just basic facts and figures about the houses we built and lived in some 200 years ago," she said.
"They also act as a valuable guide to social and political mores."
"When combined with the other material already available on the site - including hundreds of thousands of photographs, plans and architectural drawings of Scotland's buildings from the RCAHMS archive - it allows for a wonderfully rich study of our history."
Many of the window tax records will feature in Window on the Past, a free exhibition to be held at General Register House in Edinburgh, from 29 July to 23 August.