Scottish Borders councillor Nathaniel Buckingham resigns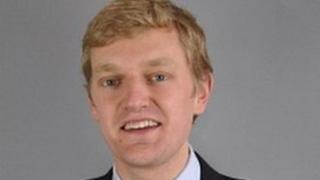 A Conservative councillor in the Borders is to resign after 15 months in the post due to the pressures of work and family commitments.
Nathaniel Buckingham, who represents Tweeddale West, was elected in May last year and will step down on 29 July.
He said he had made the decision "with regret" but had been unable to find a balance to do justice to his family, his career and his constituents.
Scottish Borders Council said a by-election date would be set later.
"Having stood for election in good faith and with an enthusiasm for what I would bring to the position, this is not a decision that I have taken lightly," said Mr Buckingham.
"Moving forward my personal circumstances mean that I will not be able to give this role the time, energy and dedication that it deserves and therefore it is right to pass on to someone who can."
Michelle Ballantyne, who leads the Conservative group on the local authority, said she appreciated it had not been an easy decision.
"I am very disappointed that a workable solution couldn't be found as we have lost a very able young man from council," she said.
"However I have no doubt that he will continue to be a strong voice for his community and we wish him every good fortune for the future."
SBC convener Graham Garvie thanked Mr Buckingham for his contribution and also wished him well.