Pupil sex teacher Eppie Sprung Dawson put under social work supervision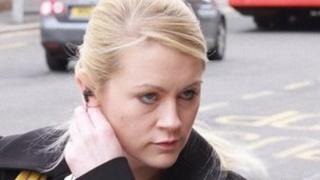 A Dumfries teacher who breached a position of trust by having sex with a 17-year-old pupil has been placed under social work supervision for six months.
Eppie Sprung Dawson will also complete a course of psycho-sexual counselling.
Dumfries Sheriff Court heard the former St Joseph's College teacher's life had been "fairly-well destroyed by her unfortunate behaviour".
She had lost her job and marriage and will remain on the sex offenders register for the supervision period.
Sprung Dawson had previously admitted having sex with the teenage student.
Police found the teacher and pupil - both partially undressed - in a car in a layby near Dumfries in December last year.
She was 26, the boy 17, so the relationship was not in itself illegal.
However, the teacher was charged with an abuse of trust which she admitted in court in March.