Caravan fire as couple watch Andy Murray on TV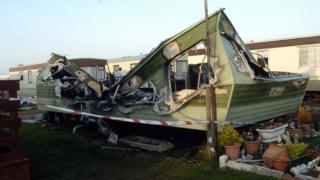 A Lanarkshire couple had to escape from their caravan after it burst into flames at a Dumfries and Galloway holiday resort.
The incident happened on Sunday afternoon at Southerness while Eddie and Helen Hepburn were watching Andy Murray in the Wimbledon final.
The fire destroyed the couple's caravan and damaged three others.
Nearby residents raced to help them and managed to move large gas bottles which were near the van.
Mr and Mrs Hepburn, both aged 74, from Cathkin, have had a caravan at Southerness for 22 years.
They believe a boiler caused the blaze but the Scottish Fire and Rescue Service said it was still investigating the cause of the fire which broke out just after 17:00.
Mrs Hepburn said the fire had destroyed all their possessions.
"We are left with what we were wearing at the time," she said.
"We were watching Andy Murray on the television when there was a terrible, terrible noise and then flames.
"Eddie said we'd better get out and we hadn't time to get anything.
"We lost absolutely everything."
The couple had arrived at Southerness on Thursday but said they would have to return home after the blaze, despite an offer of accommodation.
"We'll have to go back now but everyone has been so kind and the site manageress offered us a caravan for a week free but we've got nothing left - no money, no clothes, just nothing, so we'll have to go back home," said Mrs Hepburn.
"Everybody on the site has been great.
"People have been coming up to us offering to help."