Borders bus firm Munro's of Jedburgh ceases trading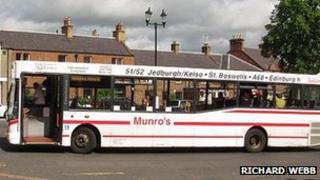 Scottish Borders Council (SBC) has made emergency route cover arrangements after local bus firm Munro's of Jedburgh ceased trading.
The company confirmed the move, effective from 22:45 on Wednesday, via its website.
It said it would no longer be able to operate any of its scheduled services.
SBC said it had secured cover to ensure that the "essential services" were able to continue.
A number of the routes were already due to change hands later this summer following a tendering process.
The remaining services will continue to run until a permanent contract can be agreed.
Borders MSP John Lamont said he was concerned by the news the company had ceased trading.
'Top priority'
"It is a great shame to hear that Munro's of Jedburgh has ceased operating, and it immediately throws doubt over the future of their employees," he said.
"At short notice they have been left without a job while many will still have to provide for their families.
"That is why the top priority now must be to ensure that they are provided with adequate support to make sure as many of them as possible can quickly get back into employment."
He welcomed the move by the council to put replacement providers in place.
"It's important that these now run smoothly, and I would urge local residents to immediately report any problems that occur."
A short statement on the Munro's of Jedburgh website expressed its thanks to all its "loyal customers" over the years.