Larch tree killer disease tackled in Dumfries and Galloway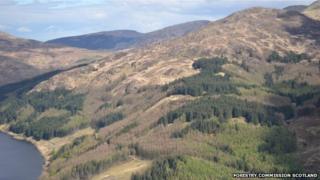 Forestry Commission Scotland is joining forces with the forestry sector in Dumfries and Galloway to tackle a rise in a disease which kills larch trees.
Phytophthora ramorum was first found on a larch in the region in 2010.
Survey work in the spring suggested that the disease had increased its range considerably across the area.
FCS is carrying out additional studies and is working to agree action to minimise any further spread of the disease and manage its impact.
Environment Minister Paul Wheelhouse has been made aware of the situation and has asked to be kept informed of developments.
John Dougan, FCS conservator in the area, said: "This is a worrying development and we are working with industry partners to manage its impact, both in terms of limiting its further spread and in dealing with the trees that have already been affected.
"There is a core area in Galloway Forest Park where it looks as if all larch has been infected and we are looking at how best to recover as much usable timber as possible.
"Beyond this core area, we are looking at taking further action to fell infected stands and those adjacent to it to try to minimise the further spread of the disease."
He said aerial surveys had also identified "suspicious sites" in other parts of Scotland.
However, he said it was believed these had been caused by canker or squirrel or deer damage.
"All of these sites will be visited so that our skilled surveyors can check for the disease," he said.
Larch trees are a relatively small but important part of Galloway forests, making up about 7% of the forest area.
Jamie Farquhar, Scotland national manager of forestry group ConFor, said: "The forest industries are working with FCS to involve the entire sector in dealing with the impact of the disease.
"There will be increased felling activity which will involve not only the forest management and harvesting sectors, but also haulage and timber processors.
"It is an industry-wide approach that aims to hold up the spread of this serious disease, and mitigate its impact as much as possible."
Airborne spores
The disease can be spread over several miles through mists, air currents, watercourses and rainsplash.
It is known to infect a range of species other than larch, including rhododendron and blaeberry.
FCS said it was clear that airborne spores were the most important factor in the south of Scotland outbreak.
It said there was no threat to public health but asked people to help minimise the risk of spread by:
keeping to marked paths
keeping dogs on leads
not removing any plant material, such as cuttings, from woodland
removing soil and mud from boots and shoes before leaving woodland
thoroughly washing boots, shoes and bicycle wheels before visiting other susceptible areas, such as woodlands, gardens or garden centres and nurseries