Scottish court closures: Justice committee backs plans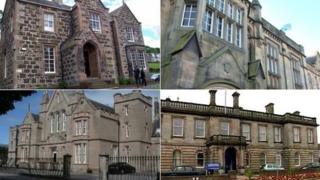 MSPs on the Scottish Parliament's justice committee have backed plans for court closures by five votes to four.
The committee spent two-and-a-half hours debating the Scottish Court Service move to shut 10 sheriff courts and seven justice of the peace courts.
Opposition Labour, Lib Dem and Conservative efforts to annul the government's motion were defeated by SNP and independent members.
The programme of closures will begin in November.
The list of sheriff courts included is Dornoch, Duns, Kirkcudbright, Peebles, Rothesay, Cupar, Dingwall, Arbroath, Haddington and Stonehaven, with their business transferred to other locations.
Justice of the peace courts in Annan, Irvine, Motherwell, Cumbernauld, Portree, Stornoway and Wick also face being closed.
Cost-saving measure
Opposition MSPs said the closures plans, which were put forward by the Scottish Court Service (SCS) and accepted by the Scottish government, will mean witnesses and victims will have to travel further to see justice being done while remaining courts may struggle to cope with increased business.
Politicians and business leaders also fear local economies will be affected.
MSPs on the justice committee had previously questioned Scotland's most senior judge, Lord Gill, who said the moves were the way forward and would not affect access to justice.
Justice Secretary Kenny MacAskill insisted the closures were justified as a cost-saving measure and as part of wider reform of the justice system.
He said: "We cannot deliver better access to justice by avoiding the need for change.
"It is right that we examine structures that have served us since the 19th century.
"We recognise that all change has its pros and cons, its advantages and its disadvantages. But on balance our considered view is that this the way forward."
Four SNP members and independent MSP John Finnie voted against Labour MSP Lewis Macdonald's motion to annul the orders while the remaining four Labour, Conservative and Liberal Democrat opposition MSPs backed it.
Mr Macdonald said: "Justice is not just another commodity to be provided only where there are enough customers to make it sustainable.
"It is surely a matter of principle to this committee that local communities the length and breadth of Scotland should have access to justice, and that those accused of serious offences should, where possible, be tried by a jury from their local area, and should certainly stand trial as close as possible to their local community."
'Wider role'
SNP MSP for North East Fife, Rod Campbell, told the committee it was a tough decision to support closure.
He said: "I regret that in a number of discussions I have failed to change the cabinet secretary's mind as to the closure of the court in Cupar. I regret that and remain of the view that it is bad news."
However, Mr Campbell said the proposals the committee was required to consider "refer to a lot more courts that just Cupar Sheriff and JP courts".
He added: "I have to take my role as a wider member of the justice committee."