Legal high dangers highlighted across Scottish Borders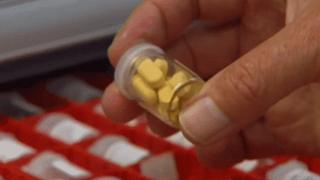 Police in the Borders are to stage a series of events to raise awareness of the harmful effects of the drugs known as legal highs.
They aim to provide information to parents, those who work with young people and the local licensing trade.
Police Scotland said that while many people thought it was legal to purchase such items, many of them contained illegal substances.
The Borders events take place between 5 and 24 June.
Drug and alcohol awareness officer PC Gillian Oliver will attend the sessions and encouraged anyone who wanted information on the new drugs and their risks to come along.
She said: "Police Scotland is committed to keeping people safe and protecting young people from the harmful effects of substance abuse.
"Our awareness seminars will visit a number of towns across the Scottish Borders and I am keen to hear from anyone who has questions or concerns relating to legal highs."
The full schedule of the events is:
5 June - Burgh Hall, Peebles, 18:00-19:00
6 June - Volunteer Hall, Duns, 18:00-19:00
10 June - Tait Hall, Kelso, 18:00-19:00
13 June - Town Hall, Jedburgh, 18:00-19:00
17 June - Corn Exchange, Melrose, 18:00-19:00
18 June - Galashiels Academy, 17:30pm-18:30
19 June - Victoria Hall, Selkirk, 18:00-19:00
20 June - Town Hall, Hawick, 18:00-19:00
24 June - Community Centre, Eyemouth, 19:00-20:00