Dumfries Theatre Royal project wins financial support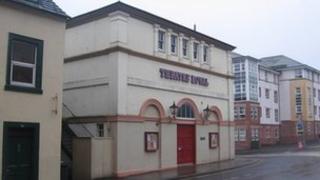 Councillors have agreed to commit £455,000 to the cost of redeveloping Scotland's oldest working theatre.
The cash has been been sitting in reserve for more than two years after an earlier bid to free it up for the Theatre Royal in Dumfries was rejected.
At that time, Dumfries and Galloway Council decided to explore the development of a new cultural centre.
However, in the meantime a business plan has been put in place to finance a £2m overhaul of the venue.
The Guild of Players and Dumfries Theatre Development Trust have already secured funding commitments of £1.4m.
An agreement from the local authority to release the cash held in reserve puts the project within touching distance of its financial target.
Members of the local authority's policy and resources committee agreed to release the funds.
Potential closure
Ivor Hyslop, who chairs the committee, said: "The joint theatre project board has been working hard to advance the work needed to restore the Theatre Royal in Dumfries.
"It has been working with an independent arts and cultural consultancy, EKOS, to look at current provision, what the demand is and future investment plans.
"EKOS has provided a number of recommendations to the joint theatre project board.
"We heard today that work is already under way by the Theatre Royal Development Trust to achieving these recommendations."
He said that with the release of the funds he hoped the trust could take that work forward.
Better facilities
A funding pledge from the Holywood Trust saved the 18th Century building from potential closure nearly two years ago.
Now, a project has been drawn up that would see the use of adjacent properties in order to provide better access and facilities.
It is hoped the proposal would allow the creation of a specialised rehearsal area, a more welcoming foyer and enhanced bar and food facilities.
Another aim of the theatre owners, the Guild of Players, is to expand youth involvement.
The Theatre Royal was built in 1792 and included Robert Burns among its original patrons.