'Energetic' storm warning issued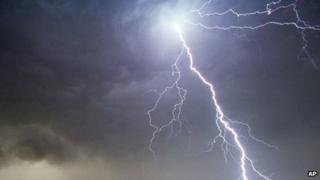 Slow-moving thunderstorms with the risk of flash flooding are being forecast in eastern, central and southern Scotland.
The Met Office has issued both amber and yellow warnings for parts of the country in the afternoon and evening.
"Energetic" storms were forecast in eastern Scotland which were likely to spread into the central Lowlands and southern Scotland.
It was expected there was the potential for "large amounts of rain and hail to fall in a short period".
The public was advised to be prepared for the risk of localised flash flooding, particularly where the thunderstorms occur in urban areas.
The amber "be prepared" warning covers the Lothians, Borders, south west Scotland, Strathclyde, Central, Tayside and Fife.
Thunder, lightning and intense showers have been reported around Dundee and north Fife.
The yellow "be aware" alert covers the same areas but also includes Grampian.
Transport Minister Keith Brown said: "The Met Office is warning us that there could be some significant disruption in parts of Angus, Perth and Kinross, Fife, Central region, Strathclyde, North and South Lanarkshire as well as the Lothians and the Borders from extremely heavy showers later today.
"The rain will have an impact on some areas, including Dundee, Perth and Edinburgh during the evening rush hour and motorists should drive according to the conditions by allowing extra time for braking and be aware of surface water.
"Transport Scotland officials are in regular contact with the Met Office and other key responders to ensure that suitable preparations are in place and that ministers are receiving regular updates."
Police Scotland urged drivers to take the "utmost care" on the roads.
Its Tayside division advised motorists to reduce their speed as heavy and persistent rainfall was set to continue across the region.
'Checking grilles'
Scottish Borders Council said it was on standby to deal with any problems which might arise.
Rob Dickson, director of environment and infrastructure, said: "We have already put plans in place to help the area cope and our services are ready for these amber and yellow weather warning periods.
"Staff will be checking grilles on river culverts across the region to make sure there are no blockages, which would lead to a greater flood risk.
"We are also contacting areas with resilient communities plans in place to activate these where appropriate to help minimise the risk of the storms and heavy rain."
Nigel Goody, hydrology duty manager for the Scottish Environment Protection Agency (Sepa), said: "With a predicted period of heavy thundery showers, and a possibility of heavy hail, this afternoon, there is a risk of significant surface water flooding anywhere across Central, Tayside, Dundee and Angus, Fife, Edinburgh and Lothians and the Scottish Borders.
"This is expected to result in localised travel disruption at known trouble spots as showers develop throughout the afternoon.
"Particular areas of concern are populated centres around Dundee, east Tayside, Fife and the eastern parts of the central belt."