Arrests made during rival protests in Dumfries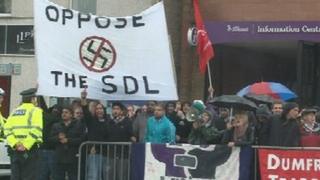 Police in Dumfries have arrested three people for public order offences as rival demonstrations took place in the town.
The right-wing Scottish Defence League staged a protest at the town's Whitesands area, over proposals to expand the use of a local mosque.
Members of the Dumfries TUC organised a counter-demonstration.
There was a large police presence and the force confirmed it had made three arrests.