Galashiels Academy janitor's £50,000 Vaseline slip damages claim fails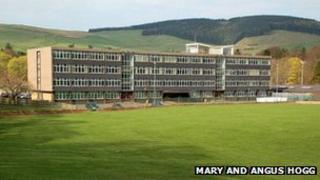 A janitor who was injured after slipping on Vaseline on a school stairs has lost a £50,000 damages claim.
Linda Gillie sued Scottish Borders Council for compensation after her fall at Galashiels Academy in May 2009.
She raised a court action for £50,000, but damages were agreed at £16,000 with liability contested.
A judge ruled it was "not reasonably practicable" for the council to ensure that the stair was kept free from the substance the janitor slipped on.
Ms Gillie, 54, from Galashiels, was taken to hospital with injuries after the incident and was unable to resume her full duties until more than a year later.
She underwent treatment for a thigh injury.
She claimed that the accident happened because of the council's breach of workplace health and safety regulations.
Lord Boyd of Duncansby said he was satisfied that the placing of Vaseline on the stairs had caused a risk of serious injury.
However, he said that the chances of this particular prank being foreseen were "very low indeed".
He said there was a long history of sixth year pupils playing such pranks on their last day at school.
In previous years there was evidence of eggs, spaghetti sauce, yoghurt and flour being thrown at windows.
Washing-up liquid had been put down toilets, cellophane put across toilets seats and fish placed in the school library.
In 2009 a trip had been arranged to a theme park for the sixth year's last day on 13 May and their last day in the school building was 12 May.
Ms Gillie's attention was drawn to Vaseline on a banister and she started to wipe it but her foot slipped and she fell several steps before hitting a wall.
Lord Boyd said the local authority accepted the evidence that she slipped on Vaseline and that in all probability it got there because of an act by sixth year students as part of a prank.
'Wholly disproportionate'
He said: "It is easy to look back at this accident with hindsight and to say more could have been done.
"The pursuer suffered a nasty injury.
"It will be no comfort to say it could have been worse if a child had slipped while the stairs were full of children.
"Those who no doubt thought that this was nothing more than harmless fun did not think through the consequences."
He concluded that while the school did anticipate there might be problems on the day, it would have been difficult for them to ensure no pranks took place.
"It seems to me that the only way to be sure nothing untoward happened would have been to closely monitor each sixth former all day," he said.
"Such a move would have been inconsistent with the sense of responsibility that the school was attempting to engender in the pupils, would have consumed staff and time in a wholly disproportionate manner, may not in any event have been effective and may have shifted the problem to yet another day."