Dumfries Dock Park overhaul set to start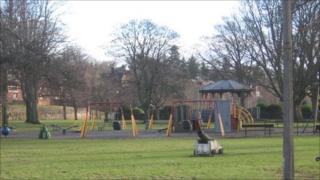 Work is poised to begin this week on a £2m project to revitalise the historic Dock Park in Dumfries.
It is being financed through a combination of Heritage Lottery Fund and council support.
In its prime, the riverside park had a range of family leisure and sport facilities including tennis courts, putting greens and a paddling pool.
However, its condition has deteriorated and the investment is seen as vital in reviving its fortunes.
The work will see the restoration of the park's key historic features such as the bandstand and the monument in memory of local victims of the Titanic.
The project also includes a replacement children's play area, improvements to the bowling pavilion and the creation of new gateways at the northern and southern entrances.
Extensive landscaping will be carried out and the existing car park will be upgraded.
The revitalised facilities will be protected by three surveillance cameras as part of the town's wider CCTV network.