Sir Walter Scott's treasures return to Abbotsford House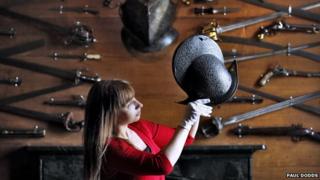 The process is under way to move about 13,500 objects from the collections of Sir Walter Scott back into his former home in the Borders.
They were removed from Abbotsford House near Melrose while a multi-million pound restoration took place.
Scott was a renowned collector and among the items he gathered were articles with links to Rob Roy, Bonnie Prince Charlie and Napoleon.
The objects will be back in place before the home's reopening on 4 July.
They were packed away and put into secure storage in 2011 while the restoration work was carried out on the fabric of the building.
The Abbotsford collections also include around 9,000 volumes from the author's library and about 400 items of arms and armoury, which are currently being re-hung in the property's entrance hall and North Armoury.
'Huge undertaking'
Scott's writing desk and chair, a silver urn gifted to Scott by Lord Byron and paintings by artists including JMW Turner, Henry Raeburn and Edwin Landseer are also due to be returned to the house in the coming weeks.
Jason Dyer, chief executive of the Abbotsford Trust, said: "The transformation of this unique property into a world-class visitor attraction has been a huge undertaking.
"But it is extremely rewarding to finally see the collections being returned to their Abbotsford home as restoration work nears completion.
"It's a process that will take many weeks and, once complete, will help us to tell Sir Walter Scott's fascinating story to visitors from across the world."