RES Glenchamber wind farm condition changes debated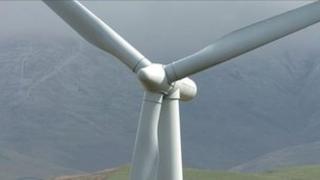 Councillors are being advised to reject an attempt to change conditions imposed on plans for a wind farm.
RES got the go-ahead for the Glenchamber scheme between New Luce, Kirkcowan and Glenluce after an appeal to the Scottish government last year.
The 11-turbine project had been rejected by Dumfries and Galloway Council due to landscape concerns.
The Scottish government overturned that decision but the company now wants to amend some of the conditions imposed.
The decision to allow the wind farm works to proceed caused political concern last year, with Tory MSP Alex Fergusson calling it a "kick in the teeth" for democracy.
Dumfries and Galloway Labour MP Russell Brown said people were "sick to death" of wind farms being "forced" upon them.
However, a Scottish government reporter said she was satisfied the plans "would not make this part of Dumfries and Galloway a less attractive tourism or recreational destination".
There were a total 26 conditions attached to the approval.
The developers are now seeking changes and amendments to three conditions which relate to the monitoring and levels of "background" noise from the development.
The amendments are opposed by council officials, who say the noise generated by the turbines could have an adverse impact on surrounding properties.
It would also, they believe, reduce the effectiveness and ability of the local authority to investigate and resolve any complaints.
They have recommended refusal when the issue comes up for discussion at next week's meeting of the planning applications committee.