Borders hydrotherapy pool move disappoints patient group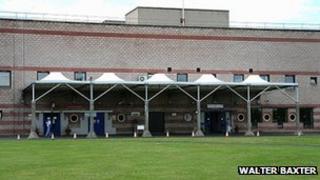 A patient action group has said it is "very disappointed" at the decision by NHS Borders to move a hydrotherapy pool out of Borders General Hospital.
A petition against the move gathered more than 3,000 signatures.
NHS Borders said the move would have a "positive impact" by improving the hospital and allowing "more equitable access" to a new pool in Jedburgh.
However, the Borders Patient Action Group (BPAG) said the benefit of the changes would be limited.
Val Miller, of BPAG, welcomed the promise of better pool access but said the group was disappointed at the choice of an alternative facility.
"At the moment the BGH is very centrally situated to serve a very far-flung Borders area," she said.
"By moving an alternative pool to Jedburgh you are actually moving the facility much further south.
"So, in fact, we feel it would be less accessible to the Borders people."
However, she said that since the decision appeared to have been made, she hoped NHS Borders would give an assurance that the BGH pool would not close until the new one was open.