South of Scotland elderly care put under microscope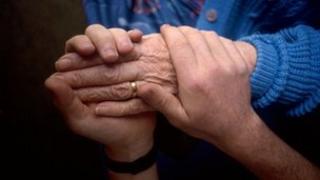 A study of service use is to be carried out as part of plans to overhaul health and social care provision for older people in Dumfries and Galloway.
The research - to be carried out by the department for public health - will be used to help assess the effectiveness of a range of pilot care projects.
The new ways of working are part of the Putting You First programme.
NHS Dumfries and Galloway chief executive Jeff Ace said it was clear a radical new approach was needed.
He said the region had an increasingly elderly population and rising levels of emergency hospital admissions.
"I know the scale of the problem," he said
"Once I get the map working and our models of change working then we can start to see what is delivering change on that scale.
"The key thing is for this to be quality-driven."
He said that meant the NHS ensuring it produced better quality health and social care but provided in a different manner.
"I want people to see this is actually delivering what we wanted," he said.
Meanwhile, Scottish Borders Council has urged people to get in touch with any concerns they might have about elderly care in the region.
The authority contracts out services to private providers - one of which has just been criticised by inspectors for a second time.
Independent Living Services' care was "unsatisfactory" last summer - and remained "weak" last month.
However, Elaine Torrance, the council's head of social care and health insisted there had been improvements and said she wanted to know if more needed to be done.