Hawick shooting man dies in hospital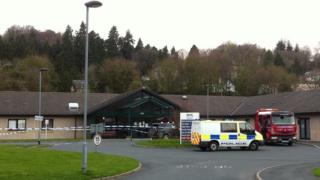 A 22-year-old man from the Scottish Borders has died after being shot in the leg.
The alarm was raised shortly before midnight on Tuesday after a firearm was discharged at a rural location outside Hawick.
A man rang 999 after driving his friend, who had been shot, to Hawick Cottage Hospital, which does not have an accident and emergency department.
The injured man was taken to Borders General Hospital where he later died.
He was unconscious when the ambulance arrived at the Hawick Cottage hospital, and had a wound from a high velocity bullet through his left leg.
'Rural location'
They administered CPR but he died after being taken to Borders General Hospital.
Police said their inquiries were at an early stage.
Forensic teams are examining a vehicle parked in front of the reception at Hawick Cottage Hospital and a large area in front of the building remains cordoned off.
A Police Scotland spokesman said: "Police are investigating the death of a 22-year-old man who died from wounds sustained as a result of a firearms discharge.
"The incident happened around 11.45pm last night, in a rural location on the outskirts of Hawick.
"He was taken to the Borders General Hospital, however passed away in the early hours of this morning."