Schmallenberg virus: Calf defects confirmed in Dumfriesshire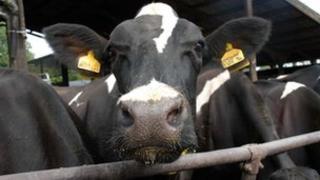 The first case of Schmallenberg disease in mainland Scotland has been confirmed on a Dumfriesshire farm after birth defects were found in a calf.
Last month blood tests showed evidence of virus antibodies in eight cows on the Barony Campus near Dumfries.
However, there were no instances of any calving problems in that herd.
After the latest case, in a suckler herd, Scottish farmers have been urged to be "more alert than ever" to issues among their cattle or sheep.
Schmallenberg virus (SBV) causes fever, diarrhoea and loss of milk production in adult cattle, although the animals do recover.
The disease, first identified on German and Dutch farms, is not thought to pose a risk to humans.
It spread via midges throughout parts of Europe and southern England.
Last year a ram from Shropshire was confirmed with the virus after being transported to Orkney.
Then, in March, the first evidence of cases among livestock bred and raised in Scotland was confirmed when eight cows on the Barony Campus of Scotland's Rural College in Dumfries and Galloway tested positive for SBV antibodies.