Dumfries and Selkirk BBC radio broadcasts reach 30-year mark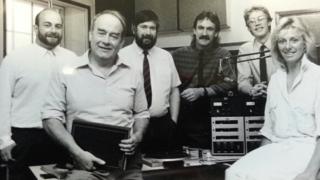 I was just a boy when it happened, honestly, but I still remember it being big news.
It was April 1983 when the BBC began to provide local radio broadcasts from its Dumfries and Selkirk studios.
The feeling in the region was, I think, that our part of Scotland had finally got a little of the recognition - and service - it deserved.
Everything which had once seemed so distant had now been brought a lot closer to home.
Willie Johnston was involved almost from the outset of operations in Dumfries, with what was then Radio Solway.
He recalled: "Radio Scotland already had regional opt-outs in the North East (Aberdeen), the Highlands (Inverness) and Orkney and Shetland and this was a natural extension of local services into the south of Scotland."
"There had been a campaign for local radio in Dumfries and Galloway for some time.
"Radio Solway was set up as a community station with a small core staff of four BBC employees.
"But their aim was to encourage as many people as possible from within the region to get involved with the station as regular contributors and programme-makers - that is how I got involved."
Richard Gordon has also been part of the BBC's story in the Borders from the early days.
He remembers very similar feelings in that part of the country.
"For a number of years prior to the BBC opening what was then Radio Tweed, there had been a push, by some local councillors, for some form of local radio service," he said.
"The then district and regional councils had supported the BBC, some making a cash contribution.
"The studios were in the council-owned Municipal Buildings in Selkirk, upstairs from the rent office.
"The first staff team included Caroline Adam, Colin Wight, Liz Irving and Brigitte Geddes."
Both men recall a lot of hard work - as well as a bit of improvisation - which were required in filling their schedule.
At that time it included lengthy news bulletins as well as feature programmes throughout the week.
Things changed, however, after 10 years in operation.
In 1993, it was decided to reduce the amount of local programming and the focus is now firmly on news with regular bulletins throughout the day during the week.
It remains a service valued by local politicians of every hue.
Michael Moore, Lib Dem MP for Berwickshire, Roxburgh and Selkirk, said: "It's amazing that the BBC has chalked up 30 years in Selkirk delivering local news content for people across the region.
"As a young student in the 1980s I fondly remember Radio Tweed, as it was known, and took part in the community broadcasting at the time.
"I am very happy that all the tapes from that era with my contributions have been lost!
"Things have changed over the years quite a bit, but the station's broadcasts remain very relevant and they are a vital source of information for my constituents and for me as I go about my work representing Borders interests locally and in Westminster.
"I have no doubt that the station has many more years of successful broadcasting ahead of it and I want to thank all the team for continuing to deliver a quality radio service for local people."
Dumfries and Galloway's Labour MP Russell Brown had a similar view of the Dumfries broadcasts.
"You'd be amazed at how many people in Dumfries and Galloway wake up at 06:54 - or 07:50 if they are lucky enough to get a lie-in," he said.
"That's because radio alarm clocks across the region are set to catch what people still call the Radio Solway news.
"The local opt-out news is very much an institution in the area, even although sadly in my view we no longer have what was Radio Solway in the 1980s and 1990s.
"Unlike in England, we don't have an array of local BBC radio stations in Scotland, and in many ways that has been a missed opportunity.
"However, it does make what local news bulletins we do receive from Dumfries all the more important."
Conservative David Mundell who represents Dumfriesshire, Clydesdale and Tweeddale - a foot in both regions - also paid tribute to the local radio broadcasts.
"In an area as large and rural as the Borders and Dumfries and Galloway keeping in touch with the news is a challenge, but one the BBC has risen to, and mastered admirably over the last 30 years," he said.
"The BBC provides an excellent radio service in this area, and their news coverage is invaluable, especially since the region does not have a dedicated TV service.
"In this part of the world radio provides an important link and much needed news coverage and local information to a wide and varied audience
"I hope that despite technological advances we will continue to see this service develop over the next 30 years in the digital era."