TN Trawlers of Annan fined over vessel safety breaches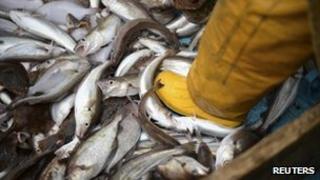 A south of Scotland fishing company and its two directors have been ordered to pay a total of nearly £150,000 after admitting several safety breaches.
It relates to defects found on vessels owned by TN Trawlers Ltd of Annan.
Directors Thomas and Christopher Nicholson admitted a number of offences under the Merchant Shipping Act.
Judge Peter Ralls QC said fishing vessels operated in a "harsh" environment and "great care" was needed to ensure vessels were safe.
The sentences at Southampton Crown Court came at the end of a lengthy investigation by the Maritime and Coastguard Agency.
It detected a string of defects and offences on vessels owned by the company between November 2009 and June 2011.
These included unauthorised modifications and a lack of availability of crew qualifications or safety training details.
Concerns were also expressed about the condition and maintenance of the trawlers.
Judge Ralls said the number of injuries and deaths at sea was concerning and that it was an owner's responsibility to ensure the safety of employees.
He added that in relation to this case it was "only right" they should pay the costs of the MCA.
In total they were ordered to pay £147,465 in fines and costs.
Capt Jeremy Smart, head of enforcement for the MCA, said the company and its directors had "failed to heed" previous warnings and advice.
"The standard of care was far below what is expected, and the failings could have led to loss of life or serious injury," he said.
"This blatant disregard for safety standards is one of the worst that the MCA has come across in past years and we are pleased that this view has been supported by the sentence of the court. "