Grand National winner Ryan Mania homecoming plans in Galashiels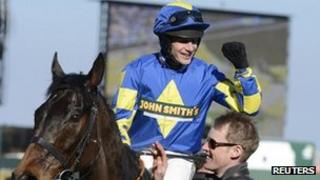 A homecoming victory parade is being organised in Grand National winner Ryan Mania's home town in the Borders.
Residents of Galashiels are expected to turn out in force to salute the 23-year-old jockey.
Mania won Saturday's National on 66-1 shot Auroras Encore.
He has been released from hospital in Newcastle after being detained for two nights and treated for injuries sustained in his heavy fall at Hexham on Sunday.
Mania is to attend a reception at a Galashiels restaurant, before the parade at 19:00 on Tuesday.
It is hoped Mania will be greeted in Quins restaurant, owned by horse-racing enthusiast Sylvia Scott.
The parade is then planned to leave the nearby Auld Mill pub and head around town centre streets.
Pub proprietor Scott Paterson said: "It is a chance for the townsfolk to turn out for our new national hero.
"His achievement is nothing short of sensational."