How do you tell the parents of 19,000 children their schools are closed?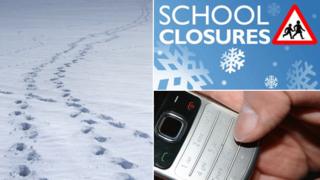 On Friday morning one of the worst snowfalls of recent years hit Dumfries and Galloway.
South west Scotland is often sheltered from such conditions but that was not the case this time.
All but a handful of the region's 119 primary and secondary schools decided to close as the snow fell with a forecast for worse to come.
But how does a council get that message out to parents dotted around an area of about 2,500 square miles (6,500 sq km)?
There are, at the most recent estimate, more than 19,000 pupils at school in Dumfries and Galloway.
The vast majority of them had to be sent home on Friday.
As a parent, such actions often face a range of familiar questions or criticisms.
Who decided to shut the school?
Why did they wait so long or decide so early?
How did they inform parents of the decision?
The first couple of queries hint at a "damned if you do, damned if you don't" dilemma.
If the weather clears up, but you close the school, people will feel their children could have spent the day in class.
However, if conditions worsen but the site remains open, pupil safety concerns are bound to be raised.
In Dumfries and Galloway the responsibility falls squarely on the shoulders of individual head teachers.
A spokeswoman for the authority said: "The council has made a blanket decision in the past due to advice received from national sources, but this is rare.
"Our region spans a wide-ranging area and the decision to close due to weather conditions or other exceptional circumstances rests with each individual head teacher."
'Accurate information'
Guidance from the council says an emergency closure should only be made when it is "absolutely necessary in the best interests of pupils".
It adds that the decision should be taken based on the "latest and most accurate information available".
"The presumption", the advice adds, "should be in favour of keeping the school open unless, in the head teacher's view, to do so would put the health, safety or welfare of pupils and/or staff at risk."
Such was the scale of the snowfall last week that, with an amber warning issued by the Met Office, most sites decided to close.
The next step was to inform parents.
"Every school has access to an online system to send their automated text messages," explained the council spokeswoman.
"If schools can't send out a message (due to power failure, etc.) then we have a central team who can send the messages for them.
"This covers all schools."
The council website, local media and a notice or staff member at the school gates are also used to relay the information.
And what about if that message fails to get through?
"If in doubt, a child should not be released," says council guidance.
"Safe and speedy dismissal of pupils in the event of an emergency closure depends on the schools and parents working in partnership."
It adds: "Provision of adequate supervision by members of teaching staff should be made for those pupils who cannot go home or to their emergency destination immediately and have, therefore, to remain at school."
The system, of course, does not always work out perfectly and that is when parental criticism understandably bubbles to the surface.
But it is also worth considering the scale of the operation required to get the message out there in emergency circumstances like those which hit Dumfries and Galloway last week.