Dumfries and Galloway school pupil TB case confirmed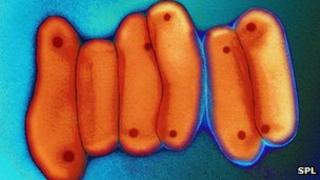 NHS Dumfries and Galloway has confirmed a "single isolated case" of tuberculosis (TB) in a school pupil from the region.
It said it was dealing with the case at Dumfries High School "in accordance with national guidelines".
Director of Public Health Derek Cox said that although cases could be serious it was usually "easily treated" with antibiotics.
He added that the risk of spreading the disease was "very low".
"In line with national guidance NHS Dumfries and Galloway is working very closely with the education department and the school concerned to identify those individuals most at risk and offer screening for TB," he said.
NHS Dumfries and Galloway said that between 400 and 500 new cases of TB were diagnosed in Scotland each year.
In Dumfries and Galloway, the number of new cases a year is "very small and usually accounts for less than 10 cases per year".
The health board said the most common symptoms of TB included:
a persistent cough lasting several weeks
losing weight for no obvious reason
fever and unusual sweats at night
a general and unusual sense of tiredness and being unwell
coughing up blood