Galashiels' ability centre redesign withdrawn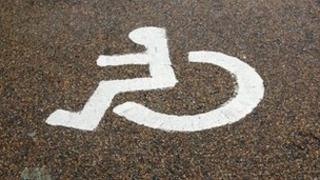 Scottish Borders Council has withdrawn its plans to redesign Galashiels' ability centre, the region's only such facility for the physically disabled.
Centre members feared the move could eventually lead to the site's closure.
They came up with their own proposals to preserve and even expand the services being offered.
Social work director Andrew Lowe said the council would discuss the plans to see if they meet goals of "affordability, equity and inclusion".
The centre, founded in 1993, offers social contact to those isolated in their own homes, as well as training in a range of skills.
The council's "redesign" proposed pulling its staff and transport from the centre, and replacing its services with a voluntary organisation, which members feared would diminish their quality of life.
Strict tests
After a public campaign the council has withdrawn its plans for the time being, and will discuss members' own six-point proposals.
Mr Lowe said: "The management committee of the ability centre has come forward with a fresh proposal so I have decided to withdraw my report to the social work and housing committee on 14 March in order to give it proper consideration.
"I plan to meet the committee to discuss their ideas as soon as it can be arranged and if their proposal can add anything I will look at it.
"However, it will need to meet some strict tests of affordability, equity and inclusion."
The next opportunity for consideration of the plans by the social work and housing committee would be 2 May.