Scotland-England border anti-crime operation catches hundreds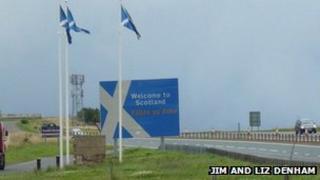 Police have detected nearly 400 offences during an operation on routes across the Scotland-England border.
Operation Overlord ran over two days in an attempt to "disrupt crime" on roads in the area.
More than 700 vehicles were inspected and it resulted in 32 being seized after the drivers were found to have no insurance or no licence.
Police stressed the operation was not a "one-off" and they would continue to target crime on the routes.
Operation Overlord involved officers from Lothian and Borders Police, Dumfries and Galloway, Northumbria, Cumbria, Durham and Cleveland constabularies.
The forces were joined by colleagues from the Vehicle and Operator Services Agency (VOSA), HM Revenue and Customs, BT Openreach, the Scottish Environment and Protection Agency (SEPA) and the Motor Insurance Bureau.
The operation took place on 21 and 22 February.
As well as the vehicle seizures, about 200 other road offences were detected, including mobile phone and seatbelt offences, driving non-roadworthy vehicles and breaches of tachograph regulations.
Scrap metal dealers
In addition, stolen plant equipment, such as a mini road-roller and a mini excavator, were recovered, along with a stolen quad bike.
The value of the items is believed to be more than £32,000.
Police also recorded five alleged drug offences and reports will be sent to the procurator fiscal.
British Transport Police were also involved in the operation and visited 11 scrap metal dealers north and south of the border as part of their ongoing commitment to tackling metal theft.
Insp Brian Jones, of Lothian and Borders Police, co-ordinated the operation and has hailed the partnership efforts as a success.
"As well as identifying several hundred offences, Operation Overlord has helped police in Scotland and England gather vital intelligence, which will prove essential for future enforcement initiatives," he said.
"This operation did not target the vast majority of law-abiding motorists who travel through Scotland and England each day but those who commit various crimes while on the road network.
"I would like to thank all of the agencies involved for their co-operation and support, which ensured Operation Overlord sent a clear message that offences on our roads will not be tolerated."