Swine flu victim Jennifer Scott remains in critical condition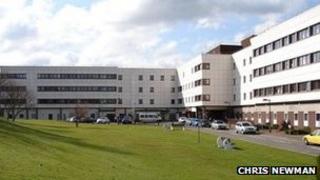 A woman from southern Scotland remains in a critical but stable condition in hospital in Leicester after contracting swine flu.
Jennifer Scott, who was pregnant, underwent an emergency caesarean before being transferred by helicopter from Dumfries Infirmary last week.
Her baby daughter is said to be doing well.
NHS Dumfries and Galloway has urged anyone in an at-risk group for flu to seek vaccination.
Director of Public Health Dr Derek Cox said it had been clear after several days in the Dumfries hospital that the patient had needed specialist care.
He said it was not a "unique case" in Scotland.
"H1N1 flu has been around both this winter and last winter following the pandemic flu previously so it's not a particularly unusual thing to have happened," he said.
"The particularly unusual circumstance here is that it is in a young, pregnant woman.
"As I hope everyone realises pregnant women are particularly susceptible to this virus."
He said anyone in at-risk groups such as that should seek vaccination which he described as "safe and effective".