Borders and Dumfries and Galloway councils set budgets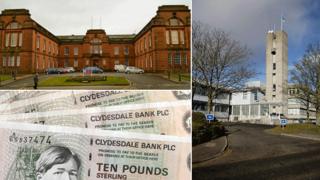 Scottish Borders Council and Dumfries and Galloway Council have agreed their spending plans for their regions.
Council tax, as expected, remained unchanged at both local authorities.
However, Scottish Water has already announced a 2.8% rise in its charges which means household bills will rise.
Scottish Borders Council has agreed moves to tackle a £3.8m "gap" in funding for the financial year ahead. In Dumfries and Galloway the savings figure required has been set at £7.2m.
SBC's ruling Independent, SNP and Lib Dem coalition saw its plans approved by 20 votes to 10.
They avoid compulsory redundancies and freeze council tax, but do see a change in staff pay and conditions and a reduction of £2m in education spending by 2018.
Council leader David Parker said: "Today council approved the administration's five-year revenue and 10-year capital funding proposals.
"Although it is a difficult economic climate with more demands placed on the council than ever before, our financial proposals do allow us to continue to invest in high quality, well-run public services throughout the Borders.
"Once again we are able to freeze the council tax for the sixth year in a row and continue to deliver a significant but sustainable programme of transformation of council services."
In Dumfries and Galloway, the Conservative and SNP administration's budget was also agreed.
Council leader Ivor Hyslop said he believed the plans - which were supported by independent councillors - struck the "right balance" between making savings and investing in the region.
'Out of touch'
"I am pleased that we have been able to put together a targeted package of measures to support the region's small businesses as well continuing to support civic pride initiatives and support sporting excellence in the run-up to the 2014 Commonwealth Games," he said.
"We have also allocated £1m of extra funding to roads maintenance, concentrating on rural lifeline links and urban housing estates, which we intend will be made available to local contractors.
"We have also removed altogether the charges for music tuition."
Opposition Labour group leader Ronnie Nicholson criticised the budget.
"The proposals from the Tory and SNP coalition to press ahead with cuts in teachers, adult education and failing to invest properly in road repairs shows just how hopelessly out of touch they are with the priorities of local people," he said.
He said administration councillors would now have to "face their communities" and tell them that school class sizes would increase, road potholes would get worse and vulnerable people would be "thrown on the scrap heap".