Princess Victoria victims honoured by Stranraer services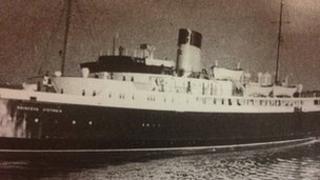 Services have been held in Stranraer to honour the victims of the Princess Victoria ferry which sank with the loss of 133 lives 60 years ago.
The ferry from Stranraer in Scotland to Larne in Northern Ireland went down in heavy seas on 31 January 1953.
Services were held at the Princess Victoria memorial and the Town Kirk to mark the anniversary.
The incident remains one of the worst peacetime maritime disasters in UK waters.
Councillor Roberta Tuckfield, who chairs Dumfries and Galloway Council's Wigtown area committee, said: "Sixty years after the tragic loss of the MV Princess Victoria, we remember those who died, pay our tributes, and offer heartfelt sympathy to the bereaved.
"We remember the valiant efforts of the crew and their fellow seafarers, who risked and in some cases sacrificed their own lives to save others.
"For those who lost loved ones, whether a partner, a parent, a son or a daughter, the consequences are still all too obvious to this day."