Scottish Borders Council pay deal 'unacceptable', says union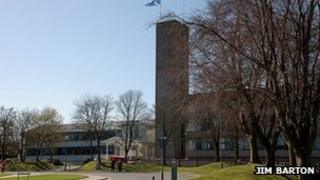 Local government union Unison has warned Scottish Borders Council not to introduce a new pay deal it claims would break from a national framework.
It said the move would create a two-tier workforce with new staff significantly worse off.
The union said the deal would amount to a pay cut over and above a wage freeze its members had faced for years.
SBC disputed Unison's "inaccurate assertions" and said the pay changes were within the national framework.
Unison - along with the other staff unions, Unite and the GMB - wants the local authority to return to talks.
Scottish Secretary Mike Kirby said: "SBC has decided to unilaterally impose a separate set of terms and conditions on new staff which amount to pay cuts over and above the wage freeze our members have had to face for years now.
Financial challenges
"None of the unions were involved in any discussion about this with CoSLA, the local government employers' body.
"The Scottish Government, CoSLA and the unions support the aim of a Living Wage for all workers providing public services. What SBC is now doing runs directly counter to that aim."
He described the move as "unacceptable".
"There is already a national pay framework which is respected by all the unions and all other councils," he said.
"We will be raising the issue with CoSLA at the first opportunity.
"In the meantime, we call on SBC to step back from imposing this and return to talk to the three unions about an agreed way forward within the national framework."
SBC chief executive Tracey Logan contested the union's version of the situation regarding its introduction of a "sustainable pay strategy for future appointments".
She said discussions had been taking place for some time with unions about the financial challenges facing the authority.
'Fundamental changes'
Ms Logan said it had been made clear in a deal, which protected existing staff from compulsory redundancy, made in 2011 that further work would need to be done to "modernise terms and conditions of employment".
She said that the deal for new appointments was approved on 1 January after talks with unions.
"The pay-scale changes are within the national pay framework and appropriate legal and equality assessments have been carried out," she added.
However, Ms Logan said the "continued challenging financial climate", combined with the fact that 60% of the net revenue budget was absorbed by staff costs, meant "fundamental changes" in terms and conditions were required.