Dumfries couple Barry and Roberta Little scoop lottery win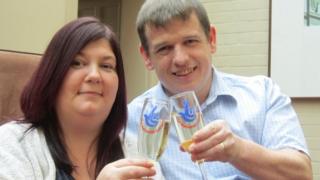 A couple from Dumfries are celebrating after scooping a £1m prize in the New Year Euromillions lottery draw.
Former carer Barry Little, 33, and his trainee hairdresser wife Roberta, 32, won the prize with a "lucky dip" using their online account.
Mr Little did not check his numbers until the early hours of 2 January to discover he was a winner.
He said the money could not have come at a better time after a "really tough year" for the family.
"I had stayed up late on New Year's night to watch TV," explained Mr Little.
"It wasn't until 2am on 2 January that I remembered I had bought a Lucky Dip online, so I checked my numbers.
"I noticed straight away from the list of raffle codes that mine was there."
The father-of-three said that "like most people" he thought he had probably made a mistake.
"This kind of thing doesn't happen to me, so I woke my wife to get her to check them for me," he said.
"Once Roberta confirmed we'd won, we spent the next six hours going over and over the code to make sure we weren't mistaken.
"We wanted to let the children sleep, so we waited until 7am to tell them the news."
They then phoned Camelot to verify the ticket.
"This could not have come at a better time for me and my family," Mr Little said.
"We've had such a tough year and this win has really lifted our spirits."
In late 2010 Mr Little took early retirement after injuring his back.
New television
Once out of work, he struggled to meet mortgage repayments and was forced to resell the family home back to Dumfries and Galloway Council in May 2012.
Since then the family has depended on Mrs Little securing a placement as a trainee hairdresser to help look after children Malachi, Reegan and Nicole.
When asked what his first big purchase would be, Mr Little answered: "A 3D television so that I can see the text on Sky.
"I am bedbound quite a lot of the time and the TV we have at the moment is quite small and it's difficult for me to read the updates on Sky Sports."
He said that after that he would take his family on a holiday.
"We've not been on a family holiday in years so they're due a nice break," he said.
"I haven't a clue where we'll be going, but it will definitely be somewhere warm."
A big Formula One fan, Mr Little is also planning on taking his family to the British Grand Prix in Silverstone in June this year.