Battle of Flodden project secures funding boost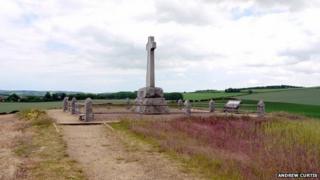 Funding support has been secured for a cross-border ecomuseum commemorating one of the bloodiest battles between Scotland and England.
The Heritage Lottery Fund (HLF) has provided £900,000 to mark the 500th anniversary of the Battle of Flodden.
An ecomuseum brings together existing sites with links to the battle, to "preserve the heritage and traditions of communities around a central theme".
Locations have been identified in Northumbria, the Borders and Edinburgh.
The Flodden 1513 Ecomuseum project will last over four years, starting in 2013, the 500th anniversary of the battle.
Ivor Crowther, Head of HLF North East, said: "With the help of a HLF grant, the site will be opened up much more widely to encourage dialogue about this historic battle and how it has impacted communities from both sides of the Borders.
"We're particularly supportive of plans to deliver a community archaeology programme which will get people enthused and involved with their local heritage."
The Battle of Flodden was fought on 9 September 1513 between the Scots army of King James IV and an English army commanded by Thomas Howard, Earl of Surrey.
It ended in defeat for the Scottish forces, with about 10,000 lives lost, including that of the King himself.
English casualties are estimated to have been between 1,500 and 4,000.
Lord Joicey, of Ford and Etal Estates, on whose land the battle site is mostly located, and who is a director of the Flodden 1513 Ecomuseum, said he hoped the funding could help expand the ecomuseum.
"The significance of Flodden in the story of our nations is too often overlooked," he said.
'Fantastic news'
The funding announcement was welcomed by councils on both sides of the border.
Vicky Davidson of Scottish Borders Council said: "I am delighted that the huge amount of work that has gone into developing the many exciting local authority and community projects that support this ground-breaking cross-border project has been recognised by this award.
"The Battle of Flodden has huge cultural resonance on both sides of the Tweed and the many and various projects funded through this award will bring an increase in interest, visits and economic benefit, including a number of new jobs, to our communities."
Northumberland County Council chief executive Steve Stewart described it as "fantastic news".
"The Battle of Flodden played a significant role in the history of our nations and this project will improve learning, access and understanding of the Flodden heritage as well as providing a boost to tourism and a lasting legacy," he said.
"The project is also a great demonstration of partnership working on a cross-border theme."