A1 upgrade seeks business backing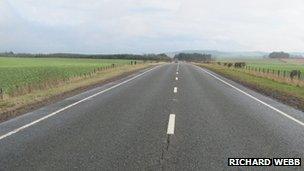 A Borders MSP has urged businesses to support a campaign he co-founded to improve the A1 through the region.
Conservative John Lamont is highlighting the economic and cross-border benefits for the area.
He wants businesses on both sides of the Scotland-England border to back the "Dual the A1" campaign.
He said such a move would provide the infrastructure needed to assist companies in the area and "strengthen the local and regional economy".
He added that its first phase would also create thousands of construction jobs.
Mr Lamont claimed: "Many new businesses are overlooking our area and choosing to set up elsewhere in search of a better road network.
"Then there are existing businesses in the Borders and the north of England who deliberately avoid the A1 and choose alternative and costlier routes.
"The economic case for it cannot be doubted, and that is why the A1 Action Group has been pushing so hard to see this road dualled."
He has urged businesses to complete an online survey created for the purpose of gathering their views .