Solway Firth cockle gangs are 'out of control'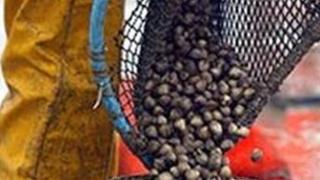 A community council on the Solway coast has claimed that illegal cockle picking is being allowed to flourish due to a row over who should police the waters.
A spokesperson said the gangs cause damage and leave residents in fear for their safety.
Cockle picking was banned in the Solway in September, 2011.
Police have claimed they have inadequate powers to enforce the ban, and Marine Scotland said it is "unsafe" for its staff to tackle the gangs.
Gatehouse of Fleet community council has called for the police to be given statutory powers to tackle the gangs.
Community councillor Ian McConchie said: "Gangs of illegal cocklers are coming down and raiding the cockle beds in the bay and this has been going on for approximately three years.
"Marine Scotland has been well aware for some time as considerable reports have been given to them by members of the community yet they seem quite incapable of being able to deal with it."
He added: "Quite simply I would just wish that the local police force be given the powers to deal with illegal cockling.
"If this was done the problem would have been solved some time ago, as it stands it will continue."