London 2012: Selkirk forest football postponed by flood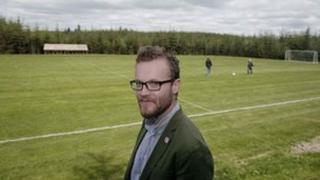 Flooding of the pitch has forced organisers to postpone a football match planned for the middle of a forest.
The Forest Pitch, near Selkirk, has been built by Edinburgh-based artist Craig Coulthard as part of artistic celebrations of the 2012 Olympics.
Four teams of "new Scots" - people who have come to the country for a variety of reasons - had been scheduled to play this Saturday.
Organisers have announced it will now be played on 25 August.
The Forest Pitch has been built in the heart of Selkirk woodland owned by the Duke of Buccleuch.
The strips for the teams involved were designed by schoolchildren in a national competition.
Mr Coulthard said that right up until Wednesday lunchtime organisers had been working hard in the belief the game could go ahead as planned.
"Following a final pitch inspection our advice from the Scottish FA is that continuing bad weather, after weeks of exceptional rainfall, mean that there could be too much standing water and mud on Saturday to allow safe play," he said.
"The safety and enjoyment of players and spectators is my top priority.
"I felt it was far better to make a final decision in the middle of the week, rather than wait any longer, to give us plenty of time to contact all the players and spectators."
He said the match would now be played next month.
"I am naturally very disappointed that, like so many events around the country, Forest Pitch has been affected by the bad weather," he said.
"I'm also sorry for any inconvenience the postponement causes to our players - who are some of the most amazing people I've had the privilege to work with - or to any of the supporters I was looking forward to meeting on Saturday."