Queen of the South vote on Rangers criticised by fans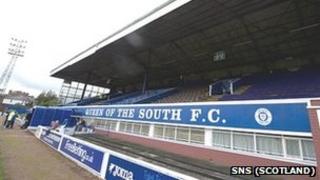 Several Queen of the South supporters have criticised their club's decision to vote in favour of putting a new Rangers side into Division One.
The Dumfries side was one of five Scottish Football League teams which backed the move.
Its board of directors said it had "not taken the decision lightly" but felt it was "in the best interests of all".
A number of fans have posted on the club's official Facebook page branding the vote a "disgrace".
SFL sides voted 25-5 against putting the Ibrox side in Division One.
However, the Palmerston Park outfit was one of the clubs which was in favour of that suggestion.
A statement from the board of directors set out their reasons for making that vote.
"This was not a decision taken lightly by the board and one which they felt best protected their shareholders and the club," it said.
"As you will see in the soon to be published accounts, for the first time in a number of years we will show a profit which is a fantastic turnaround from where we were.
"We could have taken the view to vote no and just followed others but we voted with the club's interests at heart."
Chairman Billy Hewitson said they had taken that course of action as the "best for Scottish football and Queen of the South".
"It was a business decision - we run a business and we need a business to run a football team," he said.
"I felt we made the right decision but we will go with the majority.
"Nothing that I have heard since has changed my mind.
"I am disappointed that the fans are unhappy but maybe if they hear the reasons why we made the decision they will change their minds."
The club has promised to release further information behind its decision in the days to come.
The statement prompted an angry reaction from the majority of supporters posting on the club Facebook page.
Many said they were "embarrassed" and "disappointed" by the move.
Some suggested that they would be staying away from the club's games as a result of the vote and criticised the board for ignoring the will of the fans.
There was some praise for the Dumfries side for looking at the "bigger picture".