Newcastle man jailed for causing Kirkcowan crash death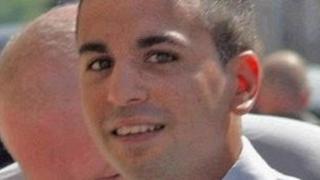 A Newcastle man has been jailed for eight years for causing the death of his friend in a crash on the A75 in southern Scotland last year.
Anthony Grant, 21, of Bellister Grove, told rescuers trying to prevent him drowning that he was alone in the car.
However, his passenger - John Quinnin, 22, of Cramlington - was still in the vehicle at the time. He died after suffering a major chest injury.
Judge Lady Stacey said Grant was a danger to himself and other road users.
He had previously admitted causing Mr Quinnin's death on 8 June 2011 on the A75 road near Kirkcowan in Wigtownshire by driving carelessly and while over the drink drive limit.
Crash scene investigators estimated that Grant took a bad bend at an accident black spot at 86mph after drinking wine with friends.
Lady Stacey told Grant he would have faced a 12-year prison sentence following the offence, but for his early guilty plea.
She said: "John Quinnin was a much loved son.
"Nothing that I can do or say can lessen the grief that his family has felt at his loss."
The judge said that she knew from a statement how overwhelming the sudden loss was for Mr Quinnin's parents and that the grief would continue.
Grant had written a letter to the judge in which he said: "I cannot and I will not ever be able to soothe the pain, loss and stress I have caused to John's family."
Lady Stacey told him he would have to live with that for the rest of his life.
She said: "You chose to drive while under the influence of alcohol.
"You then drove on a country road which you did not know at a speed which was much too fast.
"You lost control and the outcome of the accident which followed was the tragedy of your friend's death."
The judge pointed out he had no valid driving licence and therefore no insurance.
She told him his record was "very troubling" as at the age of 21 he already had convictions for driving without a licence and insurance and two for driving while under the influence of alcohol.
She added: "It is plain from your record you are a danger to yourself and other road users.
"Therefore I have to take a very serious view of the offences which have led to the tragedy."
'Very immature'
The judge said she accepted that Grant had shown remorse for his actions and a defence submission that the terrible tragedy had caused him to grow up.
"Your apparent interest in cars has to be accompanied by a responsible attitude and so far you have failed to show anything resembling a responsible attitude to cars," she said.
The judge also banned him from driving for 10 years and until he passed the extended test.
Defence solicitor advocate David Taylor said there was genuine remorse shown by Grant and he had sought bereavement counselling.
He said he would have to live with the consequences of his actions for the rest of his life and said drink had clearly been an "issue in his life".
"He was a very immature, stupid young boy before this incident," he said.
However, he maintained that being responsible for his friend's death and facing the subsequent prosecution had had "a very maturing effect on him".