Met Office rain warning for Scotland upgraded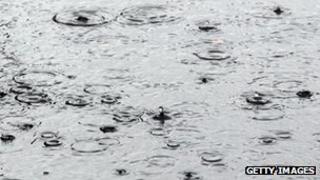 The Met Office has increased the level of its warning for heavy rainfall across many parts of southern and central Scotland.
The risk has been scaled up from a yellow to an amber alert.
The warning is valid until 23:55 and covers parts of south west Scotland, Lothian, the Borders, Strathclyde, Central, Tayside and Fife.
Scattered heavy showers or thunderstorms are likely with the potential for "torrential downpours".
Transport Minister Keith Brown warned motorists and those using public transport of the potential difficulties.
"It promises to be a testing journey home this evening for many motorists and those using the public transport network with thundery downpours creating some hazardous conditions," he said.
"I would urge them to be extra cautious when travelling in heavy downpours and allow extra time for braking distances.
"I'd like to thank the travelling public for their continuing response to travel advice, allowing more time for their journeys and general all-round patience."
The weather warning comes a week after flooding and landslides caused major travel problems throughout the country.
An alert covering parts of Scotland on Friday has moved further south but parts of the nation remain affected by a rain warning for Saturday.
The Met Office has three levels of warning for the public - yellow for "be aware", amber for "be prepared" and red for "take action".