Dumfries A75 reopen after cheese lorry blaze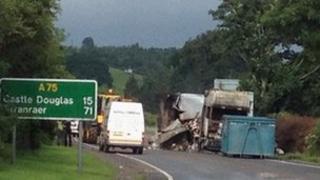 One of the main routes across south west Scotland has reopened after a fire which engulfed a lorry carrying a consignment of cheese.
The blaze broke out at about 04:00 on Thursday on the A75 just west of the Garroch Road roundabout on the outskirts of Dumfries.
The road was closed for 18 hours and diversions were put in place.
A spokesman for Dumfries and Galloway Constabulary said nobody had been injured in the incident.