Low awareness of 'legal high' risk in Dumfries and Galloway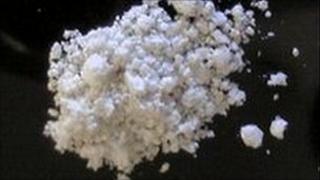 A Dumfries and Galloway police survey has found little awareness about the dangers of taking psychoactive drugs - more commonly known as "legal highs."
The use of such substances, linked to dozens of deaths across the UK, is said to be on the increase in the region.
Police said the 16 to 25 age group was of particular concern.
However, their Facebook survey showed that fewer than 25% of those who took part had any idea of the potentially harmful effects of the drugs.
Dumfries and Galloway Constabulary's substance misuse officer Scott Jardine said the findings had been enlightening.
"The survey just indicated to ourselves what sort of substances are being used in Dumfries and Galloway," he said.
"That information will be put into our intelligence database and we will be looking at some sort of enforcement, education and awareness action."
He said the survey had helped to "get a flavour" of what was happening in regard to legal highs in the region.
"There were a few surprising answers," he said.
"One of which was that people didn't actually know what the effects of new psychoactive substances were."