Borders railway: Galashiels flats cleared from route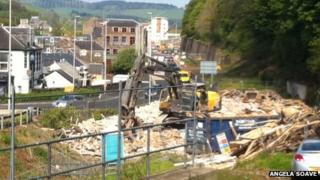 A block of flats in Galashiels has been torn down in order to make way for the reopening of the Borders to Edinburgh railway.
The properties at Beechbank Place had been earmarked for demolition for some time.
Residents moved out of the buildings last year and the flats were pulled down at the weekend.
It is hoped the £295m railway project will see trains running between the capital and Tweedbank by 2014.
The flats were right on the route of the planned railway as it passes behind Galashiels town centre.
Works were expected to have started on building the line by now but contractors have yet to begin.
However, to speed up the eventual completion, trees and vegetation are being cleared from the side of the route, right down through the Borders.