Borders hospitals hit by norovirus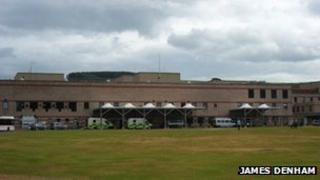 Control measures have been put in place at hospitals in the Scottish Borders due to an outbreak of the norovirus winter vomiting bug.
The Borders General Hospital near Melrose and a number of community sites have been affected.
NHS Borders has urged patients, visitors and staff to take steps to help "minimise the impact".
An outbreak has also struck 70 patients and 35 staff at Dumfries Infirmary in nearby Dumfries and Galloway.
Dr Ed James, consultant microbiologist with the NHS Borders Infection Control Team, said: "When we close a ward, it is a precautionary measure to protect new patients being admitted to the hospital and help stop the spread of the virus.
"It can also help to protect people visiting the hospital, particularly children.
"That is why we ask visitors to consider postponing their visits to friends or relatives in the hospital and not to bring children to the hospital when there is an outbreak."
He said visitor numbers for each patient were also being limited and they were urged only to go to the area they needed to visit.