Dumfries Infirmary wards closed by winter sickness bug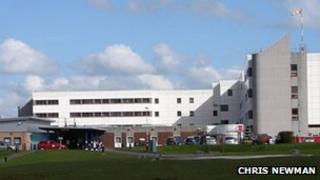 A total of 46 patients and 13 staff have been hit by an outbreak of what is believed to be the norovirus winter vomiting bug at Dumfries Infirmary.
The first case was reported on Saturday and now four wards have been closed to new admissions.
NHS Dumfries and Galloway said its outbreak control team had been meeting daily to monitor the situation.
A spokesman said that "robust infection control measures" had been put in place to tackle the issue.
A spokesman appealed to the public to follow hand hygiene advice in order to help "restrict the spread of infection as far as possible".
"Any family member or visitor who may have concerns about whether it is appropriate to visit a loved one should contact the ward concerned in advance and discuss their particular circumstances with a senior member of the nursing team," he said.
"The norovirus - which is yet to be formally confirmed - is very common in the community around this time and such outbreaks can reflect what has been happening in the community at large.
"We urge all the public to follow good hand washing and hygiene precautions in their own areas."